Teddy Bears
Hoodie Bear

The Original "Funky Bear" wearing custom knitted hoodies.

Funky Friends

Lions, Tigers, Monkeys and more. Your Message on a cute Hoodie, Greeting Card, Friendship Rings Included

Top Teddy Bear

Big Big Hugs! Extra Large 21 inch Teddy Bear With Personalized Hoodie, Free Gift Card and Delivery!

Theme Animals

Large 16" Hand Stuffed Plush Animals wearing costumes. Army, Marines, Navy, Surfers, Doctors, Nurses & more!

Sweater Bears

Genuine "Flying Bears" Limited Edition 14 inch Teddy Bears wearing a custom knitted sweater in the color of your choice.

Budget Bears

Personalized Jumper With Your Message. Includes Greeting Card Delivery - 14 inches from Head to Paw!

Personalized Teddy Bear Valentines Day Gifts
BUY NOW with Complete Confidence 100% Money Back Guarantee
Give a Valentine's Day Gift They'll Cherish For Years To Come.

ALL ORDERS INCLUDE A CHOCOLATE ROSE!
(while supplies last)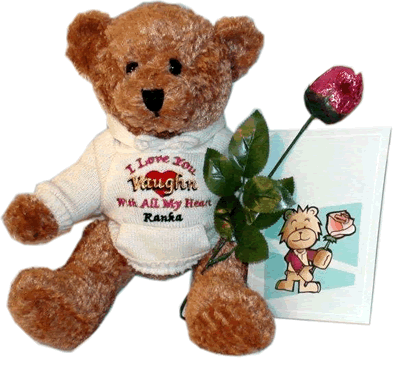 "Happy Valentine's Day!" "Be My Valentine!"
We'll embroider just about any message you'd like!
Prices start from only $24.99!
ALL Orders Include Fast US Delivery....
(US delivery 3-5 days, 2-3 day rush is available at checkout, Canada delivery $6.99)
Let's get started. Click here now to choose your Teddy Bear.
The History of Valentine's Day
Valentine's Day is celebrated on February the 14th by the majority of English speaking counties. It is a day when lovers exchange gifts. Personalized Teddy Bears have become a favorite Valentine's Day Gift because they last for years, unlike flowers and chocolate.
The Holiday can be traced back to Roman times when the pagan festival Lupercalia was celebrate on the 15th of February and naked men whipped young maidens with goat skins in the hope that this action would increase their fertility

The Christian version of this holiday was named after St. Valentine, and has become synonymous with romance since the Middle Ages, when people exchanged messages of love. It has been suggested that Valentine was responsible for sending the first valentines message. Rumor has it that he fell in love with a young girl who had visited him when he was in jail, and he sent her a note signed "From Your Valentine".

Men traditionally spend twice as much as women on Valentines Gifts. Probably because they find it difficult to express their innermost feelings. Hence the traditional "off the shelf" Box of Chocolates and Red Roses. Personalized Teddy Bears make a cuddly connection with your loved one. You are able to personalize it with your feelings. It can be a pet name, or a unique Valentine's Day message like: Love You Lots Like Jelly Tots, Be My Valentine, I Love You More Than Anything!
...or something more intimate -- the choice is yours!
Personalize Your Teddy Bear

Start Personalizing
the Perfect Gift
Click Here
---
Teddy Bear Cards




Click here to see the full range of Teddy Bear Cards