Corporate GiftsPromotional Items
Personalized Gifts
Business Gifts
Corporate Merchandise
Business Items Branded Gifts
Promotional Products
Marketing Merchandise
Customized Gifts
Advertising Gifts
Customised Teddy Bears Gifts

Corporate and Promotional Teddy Bears
Personalized Teddy Bear Gifts make excellent Corporate Promotion Tools
We produce high quality promotional Teddy Bears and Animal gifts for some of the Finest Hotels, Top Sports Teams and leading Schools and Universities. We can tailor your Teddy Bear's to make an exceptional fund raiser for charities.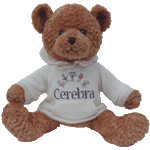 The Teddy Bear featured here is one we produce for Cerebra
One of our clients has made a profit of well over $15,000 -Yes Fifteen Thousand Dollars over the last few years selling a small souvenir Teddy Bear we produced for them.
Special Introductory Offers and Low Minimum Orders
Email
US and Canada: customteddies@icbbs.com UK and Europe: sales@funkybears.com
Or Call 888-TEDDYS8 (888-833-3978) and talk to Steven or Pamela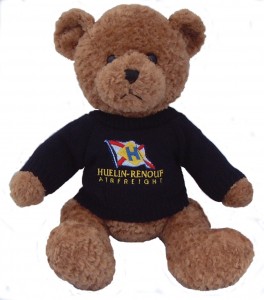 Quick Quote and Sample Request
Please fill out your details below and then submit to request a sample or a quick quote


Corporate Gifts to delight YOUR customers! Teddy Bears Personalized, produce quality Business Gifts, corporate Promotional gifts and fund raisers  that have a high perceived value and will have maximum impact by using sate of the art embroidery software

 

and embroidery machinery to expertly apply your company logo or strapline on to the promotional Teddy Bears. With over 25 years of experience providing corporate gift solutions and promotional items onto stock from our own commercial departments (IC Online Services in Los Angeles, CA and Flying Bears UK in Blackpool), which allows us to reduce lead times and be in total control of all processes from concept to delivery. You can be sure that your promotional teddy bears and personalized gifts will be the finest available.

 

About IC Online Services and Flying Bears UK Ltd Flying Bears is the UK's leading suppliers of Corporate Teddy Bears and Promotional Gifts. IC Online Services is the exclusive distributor for Flying Bears UK Ltd in the United States and Canada. Unlike our competitors we design and import all of our Teddy Bears, Animals and accessories from our partner factories in Asia. From original concept to design and through the production and delivery of our promotional items and business gifts, attention to detail is critical. This ensures that all of our clients will receive the finest promotional items and business gifts available. You can rest assured that your promotional gifts will remain in view and be a constant reminder to YOUR customers.

Corporate Teddy Bears Online We encourage you to ask us about any of your promotional needs. We will be happy to discuss developing the perfect promotional teddy bears or corporate business gifts with you. Pick up the phone and give us a call to discuss your needs. We are always on hand to answer any questions you might have.

Sourcing that Special Promotional Item Should you require a special type of Teddy Bear or soft toy that you don't see on our website, our experienced sourcing team will find it for you. Our design team will be delighted to help you on any personalization needs you may have.

Making Money from your Promotional Items Unlike many promotional items our products are so desirable that many of our customers recoup their costs and many make considerable profits from selling our Teddy Bears. Leading hotels groups throughout the UK and Europe get great brand exposure and make an excellent profit by selling Teddy Bears with their corporate logos.

 

    Promotional Gifts | Business Gifts | Promotional Items |Fund Raisers | Corporate Gifts

 

Teddy Bears
Teddy Bears Make
Great Fund Raisers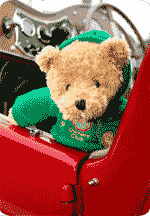 "We have been buying personalized Teddy bears from Flying Bears for over 5 years, and we have sold hundreds of them our girls love them. My Husband is secretary of the local MG owners club and they buy and sell these lovely teddy bears to their members. We were amazed when we opened a classic car magazine and saw one of the Teddy Bears sitting in an MG!"
---
Ville Brise Golf Tour
Teddy Bear