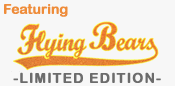 Teddy Bears
Hoodie Bear

The Original "Funky Bear" wearing custom knitted hoodies.

Funky Friends

Lions, Tigers, Monkeys and more. Your Message on a cute Hoodie, Greeting Card, Friendship Rings Included

Top Teddy Bear

Big Big Hugs! Extra Large 21 inch Teddy Bear With Personalized Hoodie, Free Gift Card and Delivery!

Theme Animals

Large 16" Hand Stuffed Plush Animals wearing costumes. Army, Marines, Navy, Surfers, Doctors, Nurses & more!

Sweater Bears

Genuine "Flying Bears" Limited Edition 14 inch Teddy Bears wearing a custom knitted sweater in the color of your choice.

Budget Bears

Personalized Jumper With Your Message. Includes Greeting Card Delivery - 14 inches from Head to Paw!
Personalized Teddy Bears - Your Message Makes Them Special


About Teddy Bears Personalized
We create unique Teddy Bears with your special message professionally embroidered on them. Our signature line of "Flying Bears" are only available here, and the hoodies and sweaters are designed to fit them perfectly. We offer a wide selection, making the combinations endless. No two Teddy Bears are identical.
Order Your Perfect Teddy Bear Gift Today!
Personalize Your Teddy Bear

Start Personalizing
the Perfect Gift
Click Here
---
New Born Teddy Bear

A great Gift for the New Born. Add a Heart or Star along with the babies name, weight, date and time of Birth.

Happy Anniversary Teddy Bear

Send a Big Big Cuddle from our Top Teddy Bears Line
---
Teddy Bear Cards




Click here to see the full range of Teddy Bear Cards